Over the last decade, the medical industry has seen a lot of advancements interms of quality care, treatment plans, modern medicines and best-in-industry practices like EHR, telescribe Virtual scribe service, Remote Medical Scribe Services and many more.
Electronic Health Record (EHR) implementation came into existence to ease the burden of physicians taking notes during the patient visit. But, adversely, it turned out to be a tiresome practice which started consuming physicians and healthcare providers extra hours.
What do physicians do, with too many considerations, clinicians and providers opt for Virtual physician scribes who aid to reduce the administrative workload and cut down the time of physicians spending their time in front of their desktop screens.
What was the role of the scribes?
In addition to physician assistant, Physicians Virtual Medical Scribes acts as the primary collaborators with practitioners during the patient examination who carry out all the essential functions say cradle to the grave acquisition of information of the visit.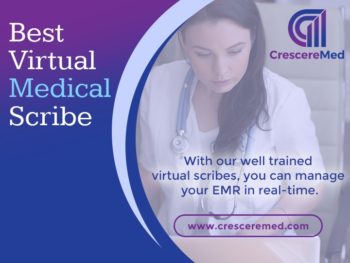 Nowadays, Virtual Physician Scribe was called as "human Dictaphone" who actively performs accordingly at the direction of the physician's voice feeding all the detailed notes from patient geographical history to clinical diagnosis and lab test reports into the EHR in real-time.
These encounters happen through a HIPAA compliant platform to ensure the privacy and confidentiality of patient data.
How many hours do scribes work?
As the sector started booming, the demand list and it benefits started growing proportionally. The questions might arise with virtual scribe cost and their working hours! But it highly depends!
The demands for best Virtual Medical Scribe are getting increased. Virtual Medical Scribe Service is highly expected to be a part at the time of emergency examination. They will hear the physician-patient interactive session for the documentation part. Finally, the practitioner reviews the details for accuracy and correctness to eliminate the risk of fatal errors.
How much do medical scribes make an hour?
A virtual scribe salary will be around $20-$25 per hour. The number of scribes needed are expected to increase around 2, 00,000 by 2021, which will give a positive impact on the pay of the scribe and give rise to virtual scribe jobs from home.
Medical Scribes will get paid based on various metrics like time zone, state you work, daily-hourly-monthly basis, etc. They might tend to sign a minimal contract with several providers for mutual concern.
Concluding, virtual physician scribes except to rule the healthcare sector in the nearer future. If we could answer all your queries, then we believe that we are doing the best in the industry.
Are you looking for affordable Scribe transcription services? Then contact our Cresceremed team today! We're already into medical transcription practices by which we can help you to enhance your healthcare service to a higher standard. We strive hard to provide you with premium virtual medical service with our expert crew improving overall healthcare community!